well some good news and bad news:
took the car to Mark on Saturday for some gain setting/level matching and initial tuning. He finished up the trunk wiring and we changed a few things around that I had done to make the amps go in and out a little easier if needed. After we got them wired in, we dusted them off and took a few pics. They should speak for themselves, but the finished product looks nothing short of amazing: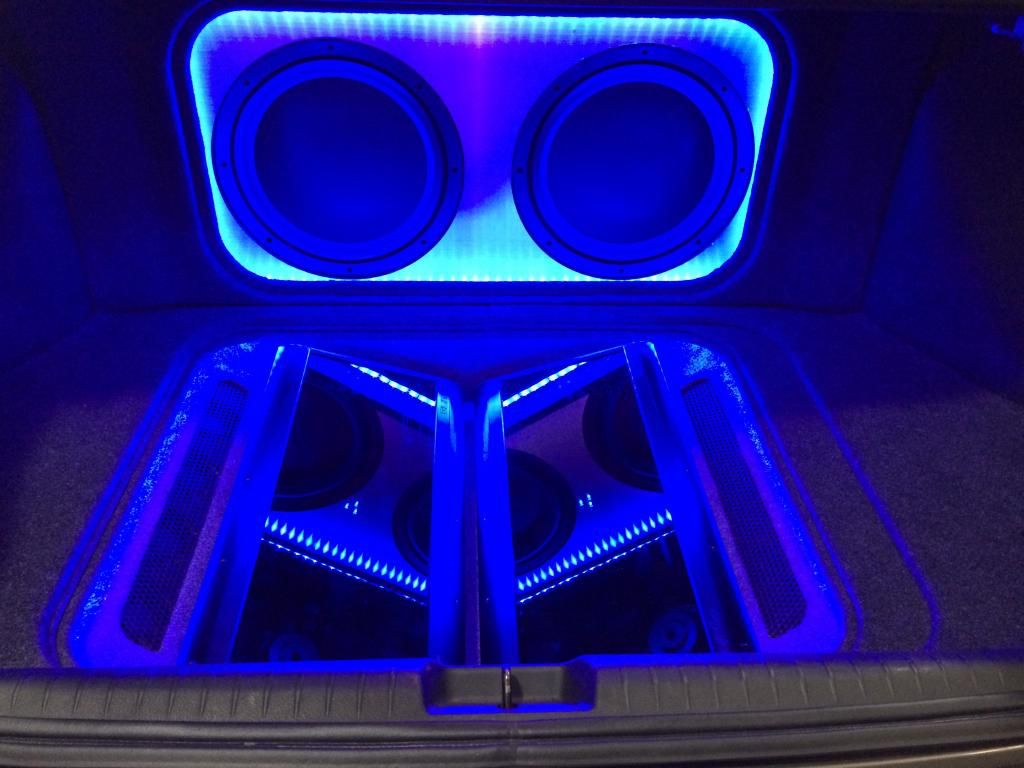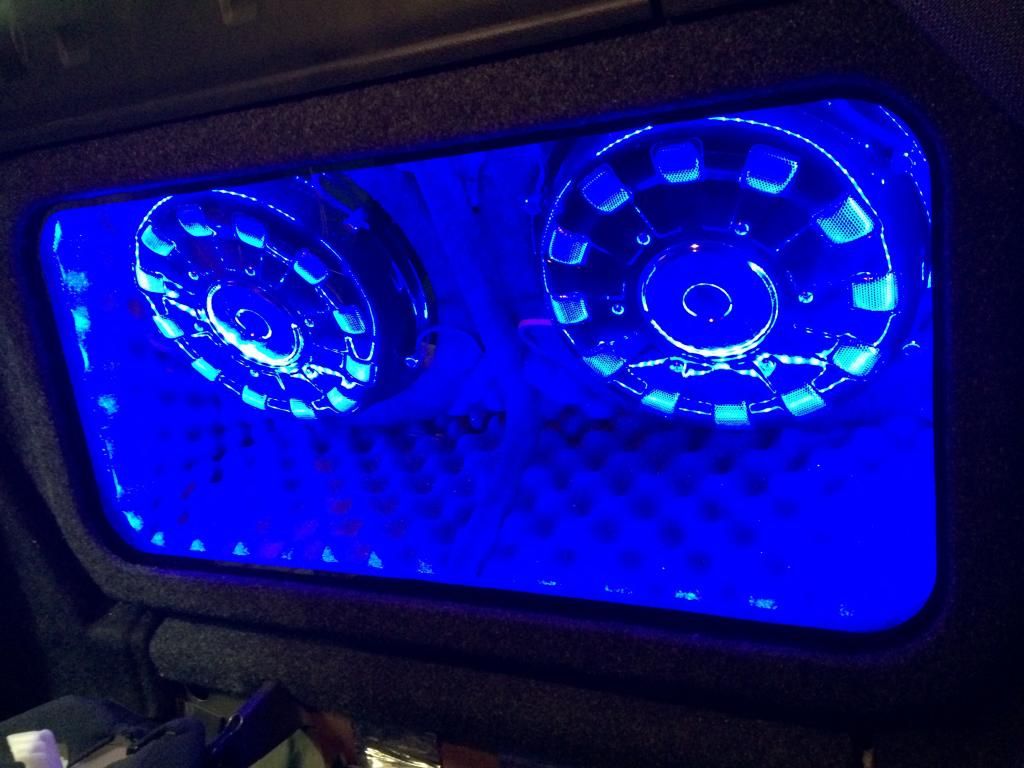 that alone made my day! It looks super classy even without illumination, and the lighting just takes it over the top! The fans are so quiet that I didnt know they were running, with the cover off!
After that, Mark did some testing to get everything properly set. My head unit max volume is 61 out of 62 based on the output signal Mark measured. He used that reference to set the gains on my amps and showed me how it should and shouldnt look on the oscilloscope. Very glad he showed me, and I can see why setting amp gains this way is definitely the best way possible.
After that we started on some pink noise tracks. He brought out the mic and did some measuring. Everything seemed to be going fine and then the pink noise seemed to change. Popped the door open, no midbass output. I opened the trunk for Mark, and smoke rolled out. Not good. Killed power as quickly as I could being completely dumbfounded.
My Elite.5 took a shit on me. All it was powering at the time were the mid bass drivers bridged on the front channels. Subs were muted at the head unit. I told Mark that I had not even hooked the amp up since getting it back from PG for a very similar issue I had with it while running my last build. I was pretty upset, Mark as well. Im more than willing to take blame for my mistakes, but I cant blame myself or Mark for this one. He pulled the amp for me. One corner of the amp was easily 150 plus degrees. After examining at home, whatever went got hot enough to warp the smoked plexi above it.
At this point, I was ready to throw in the towel for getting a solid start on setup before my vacation. Mark wasnt having it. He ended up having an SD500 PG amp sitting around. Able to do 250x2 bridged, it was a little lower on power than the elite.5 bridged, but he made it work. Mark level matched it again, we did a little more pink noise.
He had me cut 4db at 100hz, 2.5db at 3.15 and 2 at 4k just to tame those frequencies. The plot looked like your gradual roll off you wanted otherwise. I set my slopes back to 12db. Midbass are set 63/250, mid range are 250/3.15k, tweeters 3.15 up.
He asked if had my time alignment set. I told him I had used Erins calculator with some rough measurements I took at work but they sounded great to me initially when I played before tuning. He told me to throw some music on and listen to see if everything sounded level.
I popped in Mikes (velozity) demo from the fall meet. Played a couple go to tracks on there. What I heard blew me away. I was pretty bummed out about the ordeal with the amp. The way it sounded to me was EXACTLY what I was looking for. I could not believe the output the dyns have. After a few expletives expressing how pleased I was, and smiling my happy ass off, I cracked the door and told Mark how awesome it sounded and asked if he wanted to hear.
Mind you, my I dont have golden ears and am not an expert, but I know what I like. I got in the passenger seat, Mark in the drivers seat. I was expecting a "yeah thats not too bad" or "need a little work" etc. I can honestly say Marks reaction made me laugh. I think he was in as much if not more disbelief than I was. Getting confirmation that what I thought was what he thought really solidified that what has been putt together for me is something special. We listened for at least another 20 minutes. It will get LOUD. It is dynamic and full! The low end on the dyns is something special. The outer skin on the doors are begging for mercy on any tracks with some bass output. The tweeters and mids pair so well and sound so lifelike. I couldnt ask for more!
Mark gave me a "I fucking hate you" after listening to track after track. Impressing the #doctor to the point of playful insults was a lifetime achievement.
We did not touch the TA. There are 3 cuts on my EQ. It sounds stellar.
Long post, but I just wanted to share the ups and downs of the weekend. Mark allowing me to borrow his amp to give me mid bass was more than I could ask for. It will make my 12 hour drive on Wednesday much more enjoyable and I couldnt thank him enough.
On a non audio related note, I got the chance to give the car a wash today, had my tein s tech springs on koni orange shocks installed, along with putting my Mugen MF10 wheels on. Clean car inside and out, and a great stereo? Cant ask for more than that!
No sub power at the moment, but I can deal with that for now. Just had some bad luck with the amp. I will be contacting AAMP tomorrow to see what they can do to help out.
Last thing is a pic of the car with the wheels/suspension and clean!